Increasing of price of oils nowadays is keeping on pinching our wallet. This had taken tolls that some people take some drastic measure on combating this issue such as introduction of Bio-fuels and hybrids cars. I stumble on a blog proclaiming that a car engine can use cooking oil extracted from palm oil tree. I was shocked as I read the article. Cooking oil extracted from palm tree for replacement for normal mineral oil for engine. This is ridiculous for me. It some sort u frying a chicken in your engines.
Oil palm industries is like a gold mine in world market.
But believe it or not, some people is using it in our Malaysian soils until today. Few forums had debate on this but no one can assure that either the myths is true or not. If this is true, for sure the oil company will not sell the engine lubricant oil to the market but instead those consolidated companies which goes into palm oil plantation would be richer.
Photo taken from the internet showing a person pouring cooking oil into the engine as lubricant.
This taken from an article taken from the internet: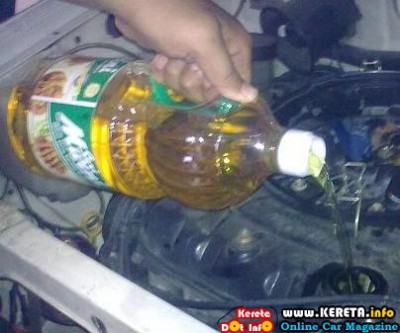 Are you dare enough to put cooking oil in your car as engine lubricant? Malaysia Boleh Land!!!
Do you believe that the normally used cooking oil(palm oil based) can be used as lubricant oil for your car? As astounding as it sounds, this is what had been practiced by some residents in Negeri Sembilan, Malaysia.
Golf School Marketing Manager, Nik Safian said that he had been using the cooking oil or his Kancil (Malaysia's local car –Daihatsu based) which he bought for only RM 2.50 (about USD 0.76)."My Kancil use 3 liters of lubricant oil. So I just put about 2 and a half packets of cooking oil to equal that amount. I used to spend about RM130 (about USD 39) for lubricant oil change. Now I only pay for the service charge."
According to him by using the cooking oil, his engine temperature is low and the meter does not exceed more than one notch. When he actually bring his car to the workshop for service, the mechanic was very surprised by the fact that he had used the cooking oil as engine oil but he admitted that the cooking oil works just fine and can be used as an alternative to engine oil.
Ex Graduate from Arkansas University US, Hisham Abdullah,43, also used the cooking oil for engine oil for his Proton Iswara(another Malaysia's local car). He said he had been using it for the past 1 year and his car engine works just fine."Cooking Oil (Palm based) is a type of synthetic oil but nobody ever use them for car lubricant for the simple fact that they do not know about it," he said again.
Car Mechanic, Mohd Tajuddin Ali reveals that he had been using this cooking oil for engine oil since he met with an oil expert in US and was told this secret. "Only palm oil based cooking oil can be used for engine oil. Do not use corn, vegetable or beans based oil for engine oil due to its nature to freeze on low temperatures.
He said that this is definitely a relief to him due to costly engine oil in the market (4 liters of semi-synthetic oil could reach to RM 140(about USD 42) and fully synthetic oil could reach to RM 200 (about USD 60)).
However he advise people to change the car hose(gasket) to a better one before trying to use the cooking oil for engine oil.
I also heard some rumours from my friend, due to higher cost some workshop replace the genuine engine oil with cooking oil or recycle engine oil. Touch wood, hope my car in good condition as I sent to authorized Perodua service centre as most of the stuff they use are genuine from Perodua/Daihatsu.
I'm a bit sceptical with these myths as until now nobody can prove that cooking oil can be used except for some people. Here i attached few link of forums for you to read as reference.
For me, although want to be stingy, the cost of maintenance of car is much higher if you need to overhaul the engine after you used cooking oil as engine lubricant. So the next time you go service your car, be careful and ensure that your engine lubricant is not a recycle engine oil or an engine oil mix with cooking oil or pure cooking oil is put inside your car engine blocks.